THE STATURE JAKARTA MENTENG
The Stature – Menteng, Jakarta. Hi End Residential near US Embassy.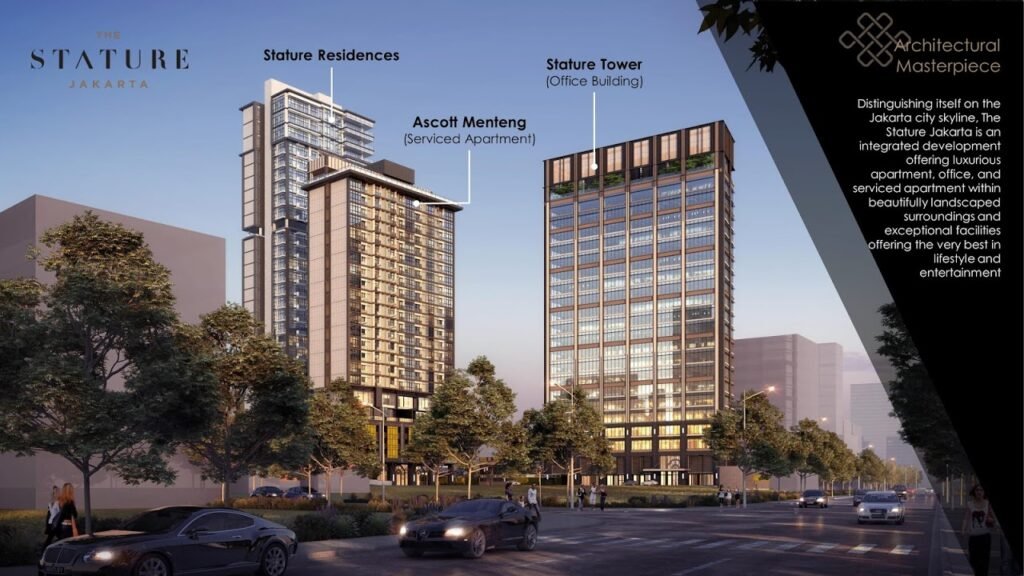 The Stature Jakarta, a statement of style and a beacon of international luxury living. This awe-inspiring estate of three towers comprising residences, offices and townhouses and an array of exclusive retail, wellness, entertainment and dining experiences will impress the most discerning clientele.
Rising proudly along Jalan Kebon Sirih in the affluent and strategically-located Menteng neighbourhood, The Stature illuminates the surrounding area with its majestic style and dignified architecture. Exuding grandeur and elegance from every angle, each tower provides impressive city views extending towards the National Monument of Indonesia, the central business district and the iconic Jakarta city skyline.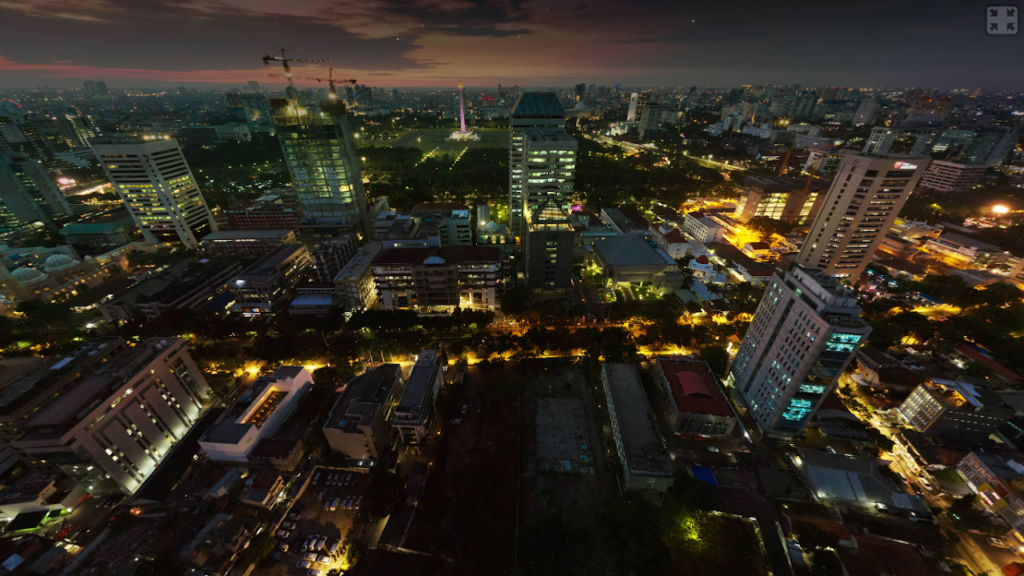 view malam hari ( monas view)
CapitaLand, Credo Group and award-winning international consultants have seamlessly crafted bespoke living and working spaces complemented by lifestyle amenities, thereby establishing The Stature as the focal point of Jakarta's social and business elite.
8 Reasons to live at the Stature Residences
A Sound Investment
A Sense of Security
Menteng Neighbourhood
High Ceilings
Integrated Lifestyle
Panoramic City Views
Lush Greenery Tranquility
The Stature Residences Location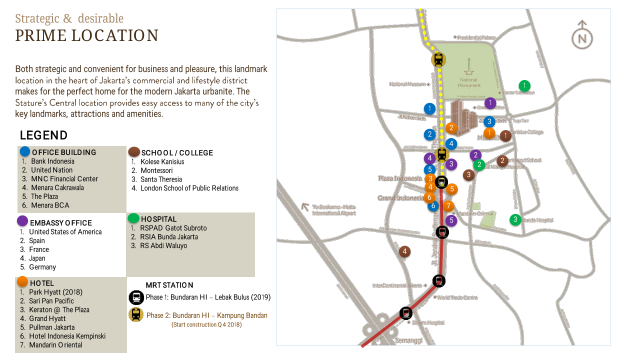 Capitaland Introducing The Stature, Hi-end Luxury Living that located at Kebon Sirih Central Jakarta. With total unit only. 96 unit.
The Stature Residences Unit Type
Secara general , the Stature Residences terdiri dari 2 apartemen residential, dan 1 tower perkantoran. Untuk tower residential , satu tower service apartment , dan satu tower apartment. 
Untuk tower apartemen, The Stature Residences, terdiri dari unit 2 bedroom, 3 bedroom , dan juga unit 4 bedroom  ( yang disebut juga skyvilla). Selain unit standar apartemen, The stature residences memiliki unit townhouses yang terintegrasi dengan tower residential, yang disebut sebagai The Mews.
Betul bagi anda, yang mendambakan rumah di kawasan menteng namun dengan fasilitas dan keamanan dengan standar apartemen, namun dengan harga yang lebih terjangkau, The Mews merupakan salah satu pilihan ideal. The Mews terdiri dari 2 tipe , yaitu The Mews standar , yaitu dan town house 3 lantai dan The Mews, exclusive, townhouse yang terdiri dari 5 lantai dan memiliki private garage.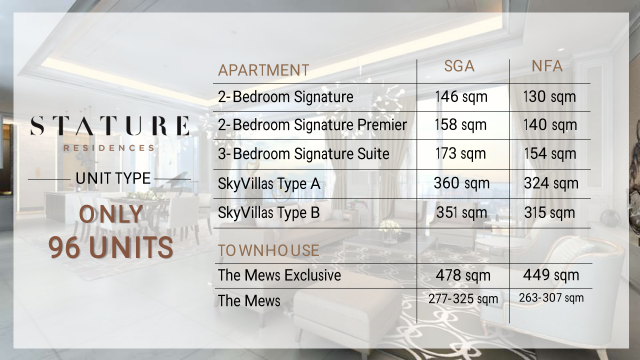 The Mews Townhouse.

Completion : Dec 2021
The stature Facilities
Unique features:
Menteng neighborhood
Excellent investment with good transportation infrastructure
92 exclusive condominium units, all en-suite bathrooms
 A Sense of security 24-hour Concierge
 Dual Private Lifts for every unit
High ceilings 3.5 meters
SMART HOME
EnabledWater filtration.
The Stature FACILITIES :
1. Security Guardhouse
2. Residential Lobby
3. Guest Lounge & Meeting Room
4. Retail
5. Al Fresco Dining
6. Serenity Courtyard
7. Zen Garden
8. Tranquil Stream
9. Fitness Corner
10. Social Pavilion
11. Picnic Lawn
12. Jogging Trail
13. Garden Retreat
14. Playground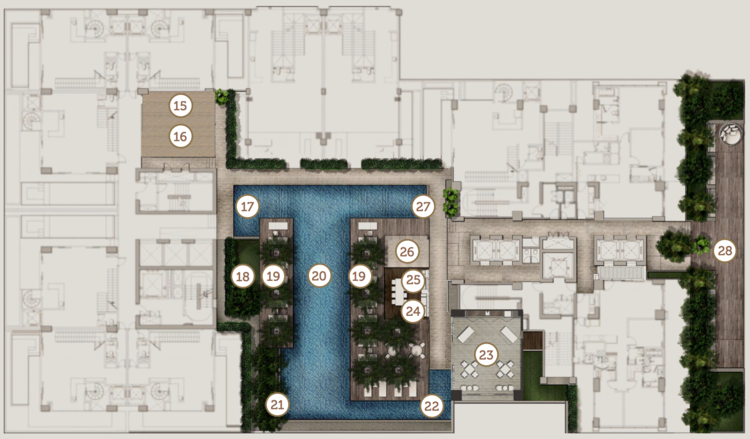 15. Gymnasium (6th floor)
16. Changing Room & Sauna (5th Floor)
17. Reflection Pool
18. Putting Lawn
19. Pool Deck
20. Infinity Pool
21. Jacuzzi
22. Social Pool
23. Function Room and Lounge
24. Poolside Barbecue Grill
25. Poolside Lounge
26. Children's Play-zone
27. Children's Pool & Outdoor Shower
28. Linear Vantage Garden
Harga & term of payment The Stature
INFORMASI  & SALES
SEDAYU BAWONO
08956 11 92 8989